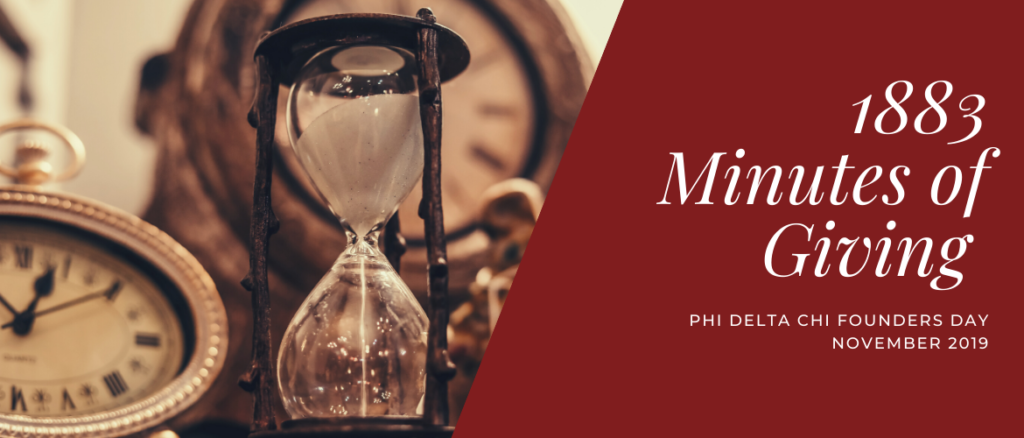 To honor our fraternity and all it has provided each of us, I invite all Brothers to give back to PDC through a donation to our Pharmacy Leadership and Education Institute (PLEI). PLEI is the fraternity's non-profit foundation that gives back to our Brothers with scholarships and awards.
Our 1883 Minutes of Giving event (31 hours and 23 minutes) begins now and will continue until Saturday, November 2, 2019 at 8:00pm EDT. The ending time has been chosen to help us remember the approximate time the first meeting of Phi Delta Chi was called to order in Ann Arbor that fall evening in 1883, 136 years ago.

We encourage all Brothers who have made lifelong friends, who have experienced professional opportunities and who have learned life lessons with any Brother over their lifetime to honor their memories by donating to the PLEI Fund. If you are making a donation in honor of a memory, please share that memory with us! Share your stories, memories, and reflections on the PLEI Facebook page.
I thank each of you for the time you have given to your Brothers and to your fraternity. And I thank you in advance for sharing your love through a monetary donation to the fraternity's foundation endowment fund.
AAE,
John Grabenstein
I would like to make a donation to the Pharmacy Leadership Endowment & Investment (PLEI) Fund. The PLEI Endowment Fund helps to support PLEI in perpetuity. 
To pay via credit card, click below
To pay via PayPal, click here.

If you wish to make a bank payment or payment by check, you may make checks payable to PLEI. Checks should be mailed to:
Pharmacy Leadership & Education Institute, P.O. Box 115, South Lyon, MI 48178.
---
Thank you for supporting PLEI.  Your donation is sincerely appreciated! 
*For recurring donations, unless you specify an amount total your credit card will continue to be charged until you cancel your subscription payment.